Bob's Best-Of Home Entertainment Expo 2006 (Part II)
By Bob Kuzma
Original article: https://www.bigpicturebigsound.com/lifestyle-plus-hifi-he-2006-part-II.shtml
Lifestyle Plus Hifi (Part II)
As we continue our Lifestyle Plus Hifi tour of the gear at Home Entertainment Expo 2006, our next top is South Beach Miami for Halloween.
Have a new condo on Collins with floor to ceiling glass overlooking the News Café with all its deco neon, and roller-blading South American supermodels? The clubs don't even open until 12, so warm up with Massive Attack's "100th Window" playing on the Von Gaylord Audio Legend Mark II Series 2 ($3,995).
First choose the color for your Legends: in addition to standard piano black and glossy platinum, you can choose metallic green, purple, or orange. Oh what the heck, you can have all of the above with the optional ($1000 extra) Chameleon automotive paint which changes color when viewed from different angles.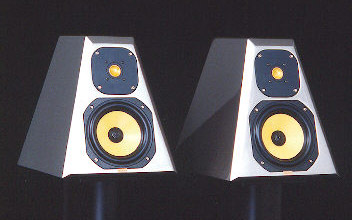 Von Gaylord's Legend 2-way loudspeaker in platinum finish.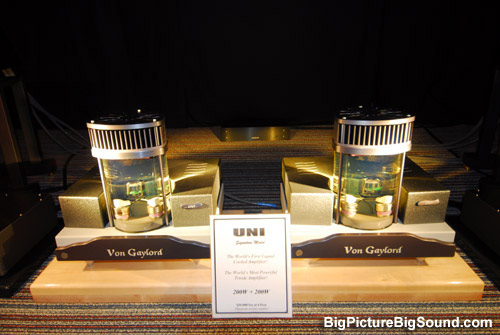 Von Gaylord's liquid-cooled tube amplifier, the Uni ($59,000/pr.).
As for mood lighting and aromatherapy? Try the $59,000 Uni monoblock amps with dielectric cooling. Von Gaylord is traditionally a show favorite and once again they did not disappoint. If you have not heard the Legends before then they, above any other speaker, will suspend your belief in the laws of physics or at a minimum make you look for additional hidden speakers. For a show setup, the folks at Von Gaylord always have it dialed, primed, and pumped. I think that their not-so-secret joy is watching newbies going slack-jawed.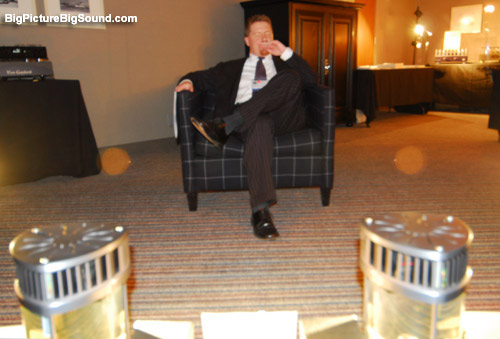 Big Picture Big Sound editor Chris Boylan kicks back and enjoys the Von Gaylord system.
I have heard the Legends before so I knew that I could keep my cool, and actually have a bit of a listen. This was my first opportunity to hear the pairing of a production Uni with the newer Legend Series 2 and the sound was over the top with a full mid-range and lush presentation. The depth and width of the soundstage was amazing from speakers which are only 14″ tall and by 14″ wide at the base. The good news, which I refer to as reality, is the legends can be paired with "lesser" Von Gaylord products, which from a cost standpoint, may be a more appropriate match to the $3995 Legend. It also leaves some money for some Flotaki rugs and Ligne Roset Togo sofas. We will see what can be done about a complete review of the Legend paired with the similarly priced integrated amplifier from Von Gaylord.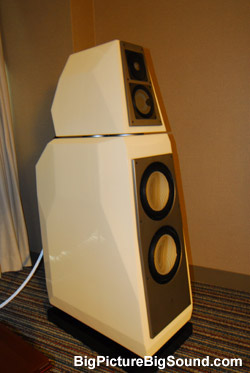 JAS Audio Plato loudspeaker.Bringing it all Home to LA
Regardless of whether you live in Venice or Palos Verdes, LA is about making an impression, so there is no need to be shy. The JAS Audio Plato is a ceramic and ribbon driver laden statement, even when it is not finished in Storm Trooper glossy white.
The speaker is marketed as "3-way plus" speaker with a 1″ inverted ceramic dome in the front, two 4.5″ ribbon super tweeters take up the rear, a 5″ ceramic mid, and dual 9″ ceramic cone woofers.
The system was driven by a pair of $2100 class D analog-switching NuForce amps and matching $1700 Nuforce preamp. The source material was spun courtesy of the beautiful $14K Esoteric P03 Transport and matching $14K Esoteric D03 DAC.
The sound of the system improved throughout the first 3 days of the show apparently as the new electronics had a chance to break in. However, even on the first day, my overall impression is this system has a one-of-a-kind sense of speed dissimilar to flat speakers or metallic piston drivers driven by traditional A or A/B solid state electronics. Considerably more weight than an electrostatic and with no hint of ringing, which can be heard with some metallic drivers. Solid controlled base and a neutral, nearly inert midrange and top end. This is a system which I suspect will provide the listener with a unique and altogether new insight into their personal music collection.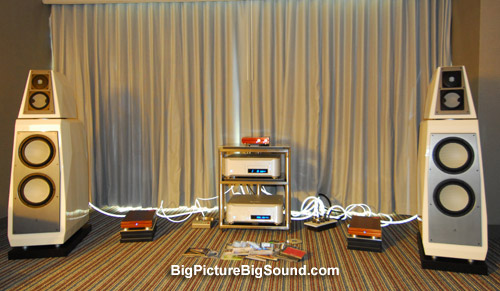 JAS Audio Plato loudspeakers driven by NuForce amps and preamp, with Esoteric P03 CD Transport and matching D03 DAC as the source.
The final system of our world tour would be found in an upscale domicile in a world class city anywhere in the world. This system was the culmination of an international treasure hunt by Globe Audio Marketing of Ontario Canada which created the most musical and integrated sound of HE 2006.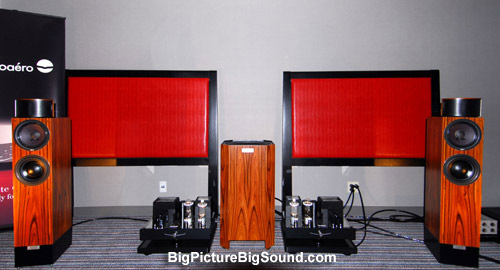 Globe Audio Marketing room featured WLM loudspeakers and Audio Aero Prestige monobloc tube amps..
The first stop of high-end treasure hunt begins with Audio Aero Design of Toulouse, "the Silicon Valley of France". The $12,990 Prestige SACD is marketed as reference quality and from the curved aluminum front panel, analogue output stage, and integrated preamplifier this is truly an incredible device. The player's preamp outputs were connected to a $23,000 pair of their 40W Prestige Monobloc amplifiers which combine a single ended triode with a high voltage pentode.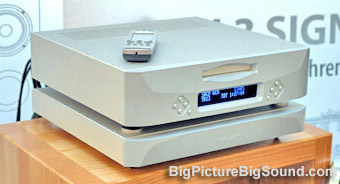 Audio Aero's Prestige CD/SACD player.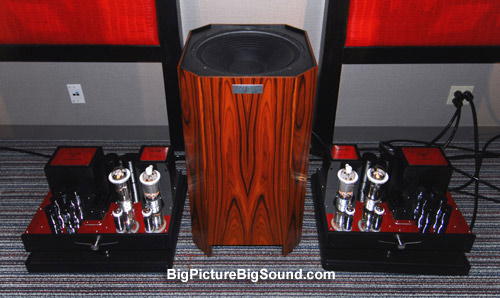 Audio Areo Prestige Monobloc amplifiers in the Globe Audio Marketing room.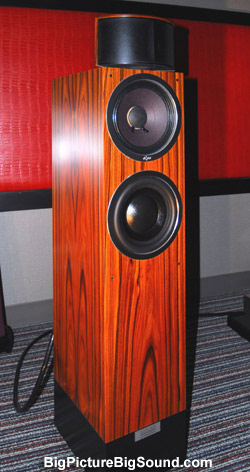 WLM's Lyra loudspeaker.The next stop is Austria, home to WLM (Wiener Lautsprecher Manufaktur) speakers, which in four years have succeeded in creating a system which may mark a new milestone in speaker design and most importantly execution.
The Lyra is their entry level product in their reference series and is available in a beautiful rosewood finish for $8995. The show model included the $2750 Super PAC tweeter upgrade which provides a wider surface area and enhanced sound stage. Philosophically, WLM believes that the base drivers should be separated from the other drivers as the only effective means of eliminating driver interaction, so their subwoofers really should be viewed as integral to their speaker design. The active $6415 dual driver Duo subwoofer is named for the two vertically mounted woofers which function in an isobaric configuration. The woofers are available as dual 12″, 15″, or 18″ with only the width changing with increasing woofer diameter.
The Globe Audio room managed to provide an uncompromised musical experience. The sound stage, depth, and speed were what could be expected from a fine pair of electrostatic speakers. The weight of Lucinda Williams vocals was as natural as I have ever heard. The upward firing isobaric sub was placed between the monoblocks and I am certain added to the sense of depth and control of the overall system.
To put this in perspective, this was done in a modest size hotel room by several gentlemen who, while clearly audiophiles, are primarily importers who provide marketing and distribution of the products involved. I would add to their resume system integrators since they were able to create a turnkey system which requires no more than the financial means to achieve a world class listening experience.
The five rooms covered in these two articles demonstrated that a return to Lifestyle Plus Hi Fi is possible. In side conversations with dealers and manufacturers it became clear that the small high-end manufactures are, probably once again, at a crossroads with fewer high-end audio stores, the ubiquity of "good enough" home-theater-in-a-box systems, and frankly an aging demographic. In order for high-end audio, and high-end audio publications, to survive, the home Entertainment Expo itself may need to develop beyond a product showcase, to include a business forum for developing marketing strategies. This is the time for a unified message of how high-end audio continues to have a place in the modern world by returning to Lifestyle Plus HiFi.