The Journey
Everything was different this year…well, almost everything. This was the first time this century (yes, REALLY!) that I was not on an airplane heading for this annual industry pilgrimage before sunrise on Press day.
For those who don't know or care about such things, Press Day for the annual Consumer Electronics Association's CES is always the last day before the show officially opens. This year, with CES scheduled to run from Tuesday, January 8th, through Friday January 11th, Press Day was Monday, January 7th. Here is where our plot this year thickens, as that was, coincidentally, the same day chosen for the BCS National Championship Football game.
No… This year, in an effort to save a few shekels, I had chosen a departure time that was later in the day than I would normally have arrived at my destination. For reasons that are still completely unclear to me, that choice alone had saved over $125 on my fare.
It also added a third hop to my trip, rather than the usual one stop, so combined with leaving late afternoon, this all put me into Sin City well after dark, something like 11:30 PM Eastern time (8:30 PM local time), instead of before lunch. And as it turns out, this money-saving, added-flight-itinerary presented yet another unique, unexpected, and highly undesirable circumstance—given the date. Can you see the potential problem yet?
When I booked my travel arrangements back in early September of 2012, there was no way for me to have known that the Notre Dame Fighting Irish Football team would finish its regular season undefeated, and thereby earn a place in that afore mentioned BCS National Championship Bowl Game. My later flight times would have me in the air during the entirety of that game. Why does that matter to someone traveling to CES? In my case, it's really quite simple. I'm happen to be the senior IT Support Engineer/Analyst for the Department of Athletics at that very same University of Notre Dame in north-central Indiana!
Aside from being an employee, I'm also a dedicated fan. And while I don't think I ever honestly expected we'd beat Alabama, I did have hopes just the same, one of which included actually watching the game. Yet due to my frugality, my later, extended voyage assured that I would be in the air during the game, not arriving in LV until after the game had concluded.
As such, I had to settle for looking in on the CBS Game Tracker software on my mobile phone. Far from an ideal method of following such an important game! And the defeat was even more disappointing for not being able to watch it live as I should/would have done had I not, for the first time in over 15 years, changed my travel plans. Little did I know at 9:00 PM Pacific Time Monday night, with luggage retrieved and ridding the shuttle to the rental car pick up destination that the painful loss would foreshadow a general overall sense of disappointment I would experience with this years combined events.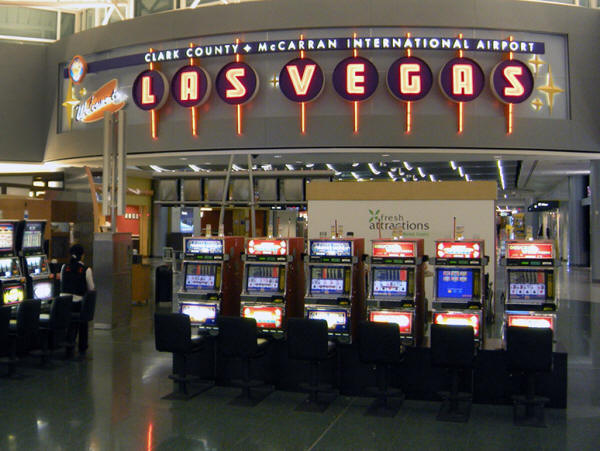 The first things you see getting off a plane coming into McCarran, and the last things you see leaving…
I was treated to a rare pleasant surprise on this trip when I got to the Enterprise Car Rental kiosk and was informed that they were out of the smaller class of car I had reserved—again a choice made to limit expenditures this year. In its place, I drove off in a white, very low mileage, Jeep Compass. This minor triumph would soon be followed by the first real letdown this year, Ok, the second after the loss of the National Championship game. The drive from the rental car location at McCarran turned into an unexpected ordeal. I won't bore you with all the details, but I will say that finding the entrance to The Quad's parking garage was another ordeal on its own, and I've driven in Las Vegas just about every year for the past ten!
Once I got parked, I was further put off by the length of the check in lines at The Quad (formerly known as the Imperial Palace). When I asked, they said it was taking about an hour to check in. The Quad had been chosen because of its immediate proximity to, and almost equidistant placement between, the Flamingo, home of the 15th T.H.E. Show, and the Venetian, the venue for the High Performance Audio exhibits of the 46th CES, and its high degree of affordability.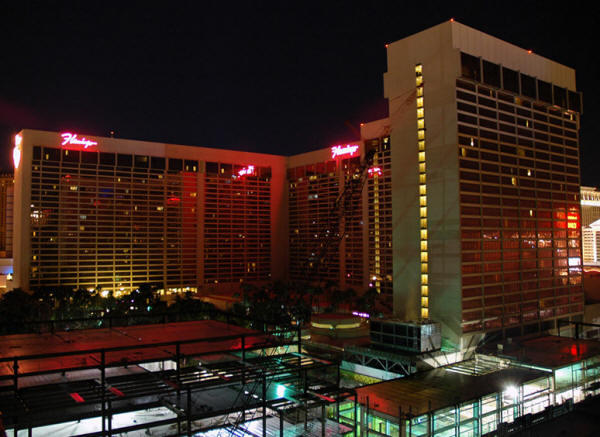 The Flamingo by night—and the 24/7 construction site in the foreground
Once I finally got checked in and found my way to my room in Tower 4 (if you've ever been in this hotel, you know how convoluted it is to find that tower), I suffered my usual first-night-in-Vegas sleeplessness. Further compounding my inability to get some much-needed shuteye, immediately just outside and below what was being passed off for my balcony (a two foot wide by 6 foot long railed ledge) on the 13thfloor was an active building construction site—one that was open and working round the clock every day. I like the night air, especially in a cramped and unfamiliar hotel room, so sleeping with the balcony door open, even a crack, amplified the constant hum and grind of the workers and the ongoing construction just below.
As a consequence of my sleeplessness, after trying to wind down with a few (okay, it was more than a few!) single malts at the Quad Casino bar, I found myself walking—up and down the strip, making stops at the Flamingo and the Venetian. Over the years, it has become my practice to make these walks with my Nikon. I ended up shooting plenty of night images, both inside and out. It turned out to be a long, long night. Once I was able to unwind enough, lay down, and actually try to force myself to crash, the last time I glanced at the clock before drifting off was 5:25 AM. Vegas time, or 8:25 AM at home. I had been awake for a little over 25 hours.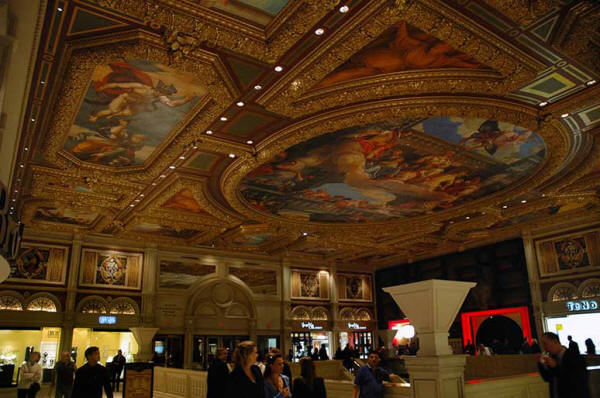 "Modern" Renaissance Art – the faux ceiling masterpieces in the Venetian
And So It Begins
I woke at 7:30 AM, almost to the minute, just two short hours after having fallen asleep. After calling my wife to check in on how she and the dogs were faring, a shave and a shower, it was time for breakfast, the most important meal of the day, dontcha' know? I LOVE breakfast, old school breakfasts that is; eggs, bacon, sausage, and potatoes of some variety. One of the touted "perks" of my stay at the Quad was that the $20 fee for the Breakfast Buffet was included with my room.
After winding and trekking through this maze of a hotel (you have to experience it to believe it), I found the breakfast buffet. After the hostess called the front desk to verify I was a guest of the hotel, I was lead into the small-ish seating area and told to help myself. Honestly, the layout was a bit unintuitive, but after about 5 minutes of trudging around the serving areas, I was able to locate some clean coffee cups (there were none near the large coffee carafes) and plastic drinking glasses for juices and milk.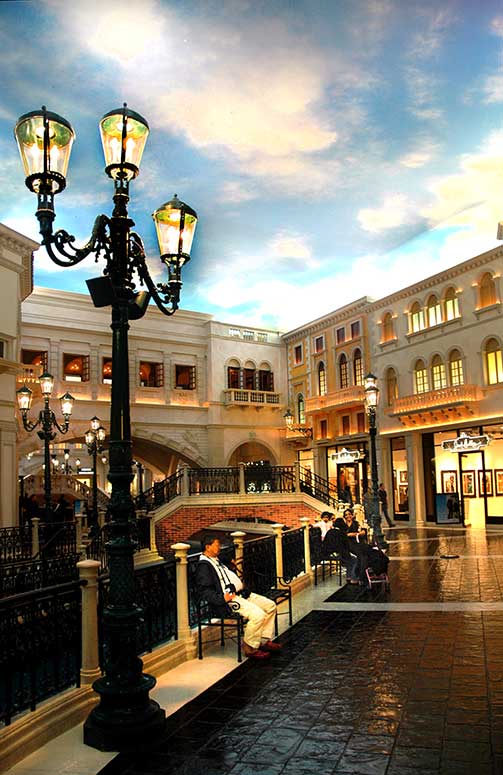 The ceilings above the Palazzo shops are cleverly painted and lit to give a convincing impression that you are actually outside
Partially hung over and still fatigued from only two hours sleep, I was appalled to find the coffee bitter, the eggs, bacon and sausage, cold and rubbery, the juices and milk, warm. Further, not only was the selection of menu items austerely limited, the quality was simply dreadful. I mean, really, the food was just ghastly. That was the last time the Quad saw me for a meal… If you should ever find yourself in this hotel, STAY AWAY from this buffet!
With that debacle behind me, it was time to get my Wednesday off to a real start. This year, since I had gotten into town after 9:00 PM, I had not been able to stop by the Venetian to complete my Press Registration. My first stop would need to be the Press Registration booth on the fourth floor of the Sands Expo Convention Center, attached to the Venetian. After checking in, getting my lanyard and badge, then picking up my Press Bag, it seemed more than just a little appropriate to continue doing things atypically.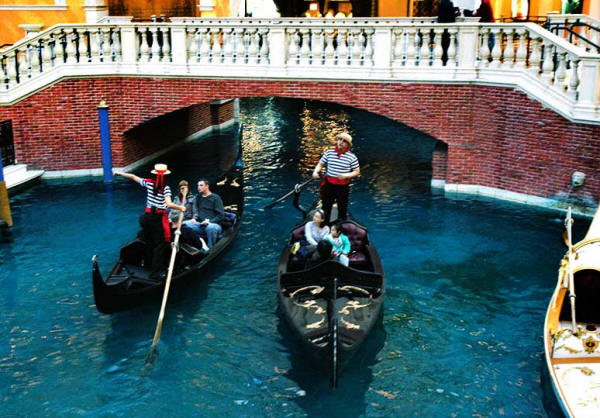 Though you may be tempted to believe you are seeing a real canal in Venice, keep in mind, this canal system is above the Casino

The opening morning customarily finds me starting on the 35th floor of the Venetian checking out all the megabuck suites, then descend through the lower floors over the next few days. This year, contrary to this customary pattern, I decided to change it up even further and start with T.H.E. Show in the Flamingo. Before I could start, I'd have to collect my credentials for T.H.E. Show, as Richard makes no provision for Press members to register ahead of time.
I took the escalator from the main lobby area down to the lower floor and found the Press Registration room in T.H.E. Show office. After a quick registration process, picking up another lanyard and badge, I started to rove around all the proximate larger suites. Exhibitors who need something bigger than the standard hotel room (most of the rooms on the 4th floor are only about 350 square feet) pick one of the suites on this level. This is also the area of T.H.E. Show where all the software and accessory vendors choose to display.
The large open area to the south end of the lower floor plays home to all the record and accessory vendors. I had opportunity to stop and chat with Chad Kassem of Acoustic Sounds, resurrector of the Mobile Fidelity brand, and a genuine good guy! I wandered in an out of a number of the rooms, however, I remained mostly unimpressed.
I found KEF America in the Lake Meade room, yet all three times I dropped in during the event's four days, was never able to catch a demonstration of the special 50th Anniversary LS50 loudspeaker. The $1500 LS50 represents a reinterpretation of the research, design, and engineering approach taken with the quintessential British mini monitor, the LS3/5a, employing all their latest technologies. As significant as the LS3/5a has been, I really was looking forward to hearing KEF's 2013 reprise. Sigh! It was not to be.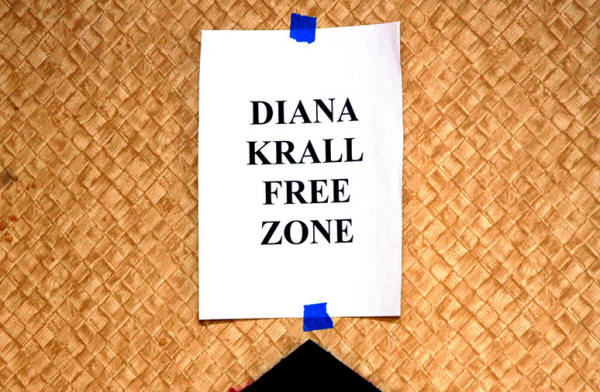 Random sign outside a room on the 4th floor of the Flamingo
My timing somehow managed to find me getting the bluster and pitch for the $30,000 KEF Blade several times, as well as having the opportunity to hear them. As eye-catching as they are, while the Blade sounded reasonably good, I did not feel it lived up to the $30k asking price. And since my reference loudspeaker (the Von Schweikert VR-5 Anniversary) sells for that very same retail, I'm very well acquainted with speakers at that price point. Perhaps it was because all I ever heard them sourced with was a MacBook Pro laptop running a Virtualized Windows machine as a music file server. I can't say with any certainty.
I was looking forward to hearing the new Aeris from Legacy, and I found them in the Red Rock VI room where Legacy had teamed up with CODA. Makers of the long time over-achieving Focus (now available in the SE and HD version) which I've LONG admired in their price point, and the remarkable Whisper, the new Aeris carries a retail price of $15,900, is distinctive in appearance, and is a unique design for Legacy. Described as a 4.5 way speaker, the Aeris uses a new Legacy Dual Air Motion Tweeter and a pair of titanium encrusted 8″ midranges with enormous motor structures imported from Italy, in an open-air, dipole design.
Low frequencies are handled by an additional 10″ midbass and a pair of 12″ subwoofers powered by a kilowatt of included ICEpower® amplification, and Legacy claims exceptional extension—to 16Hz. They also employ a 24-bit DSP room correction system, have balanced and unbalanced analog inputs and outputs, a level control, and both SPDIF coaxial and USB inputs for optimizing performance. The design is interesting, and you can read more about it at the Legacy website. Overall, a very promising design.
One of the better sounding rooms downstairs was the Ayon set up in the Red Rock II room…yet without question the most natural sounding and musically engaging room on the lower floor of suites was the Red Rock VIII room, sponsored by Audio Power Labs, WADAX, Kaiser Acoustics, Fono Acustica and Stillpoints.
This room included the stunning looking and sounding Audio Power Labs 833TNT Monoblock Amplifiers, the 200-Watt Class-A Triode behemoths ($175,000/pair). Preamplification was handled by Steve McCormack's pièce de résistance, the SMc VRE-1C ($16,950).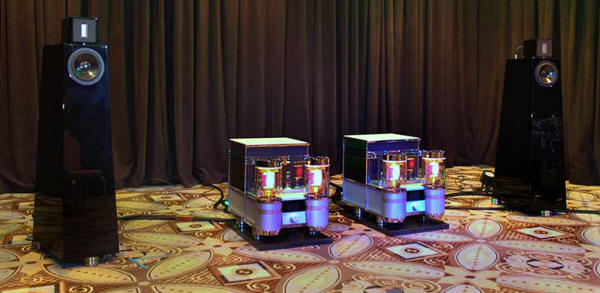 Kaiser Kawero's lit up with Audio Power Labs 833TNTs
Vinyl was transcribed by the Brinkmann Oasis Turntable fitted with the 10.0 Tonearm and Pi Moving Coil Cartridge ($20,100). And while the WADAX PRE1 is a Preamplifier, Phonostage, DAC, and Streamer all in one, ($38,300) in this instance it was primarily used for its digital and Phonostage functions. Music files were sourced by the new WADAX Hermes ClearStream Digital File Server ($7670), which was making its world debut at T.H.E. Show.
Loudspeakers were the conspicuous looking Kaiser Kawero's ($66,000/pair), power conditioning was handled by the Fono Acustica Sinfo ($9,995), and all power cables ($7300/1.5 meter), interconnects (single ended @ $6850 per meter and balanced @ $8100 per meter), and speaker cables ($19,900 per 2 meter) came from Fono Acustica Armonica. Equipment isolation was all Stillpoints, using the ESS 26″ 4 ShelfRack ($10,550 + options), the ESS 20″ 3 ShelfRack ($8500 + options), with the liberal use of the Ultra 5 Isolation Feet at $699/each.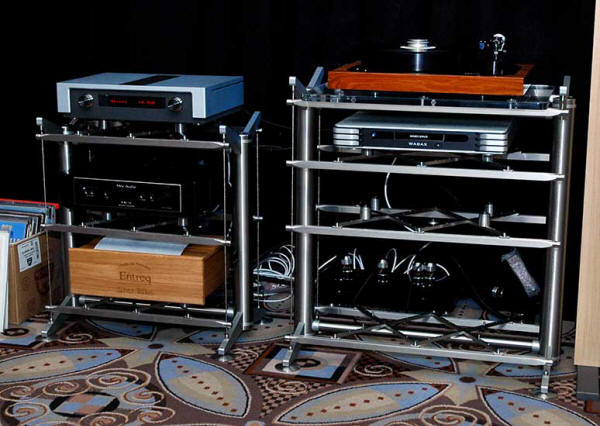 Brinkman, WADAX, and ClearStream

This room was truly worthy of attention; rich harmonics, dripping with texture, and beautiful, authentic timbre. The stage was large and accurate without being cartoonish (think Acapella loudspeakers), and the interplay between instruments, especially noticeable on intimate jazz recordings, was irresistible, intimate, and spookily faithful. Performances were articulately rendered in space, full of body and life, and presented with a degree of intelligibility that was commendable. All in all, this was the most accurate, articulate, and engaging music system to be heard on that lower level of the Flamingo, PERIOD!
By lunchtime I decided to avail myself of the wonderful table that Richard Beers sets for this event. Fresh salad makings, tender beef, perfectly prepared pasta. The meal was as beautifully laid out on the serving tables as it was delicious. As a member of the press who would otherwise be subject to the vagaries of fending for himself and finding a lunch in one of the pricey restaurants in the resort hotel, or availing myself of the "box lunch" (while they lasted, anyway) proffered by the CEA in the press lounge at the Venetian, I tip my hat, once again, to Mr. Beers! Thank you, Richard.
After lunch, it was time to move on to the fourth floor, the only other area of the Flamingo to host show rooms. Stating at one end and trudging the hallways to the other, I found a myriad of rooms so poor sounding that it actually shocked me—and I've been covering shows for over 20 years now.
As I traipsed around from one less-than-honest sounding room to another even more atrocious sounding one, I ran into Roger Sheker, the chief engineer at Audience. Roger is one of the good guys, and it is so rare that we get to chat (pretty much at CES only, in fact) that we decided to head on up to the Audience room, 4049, to catch up.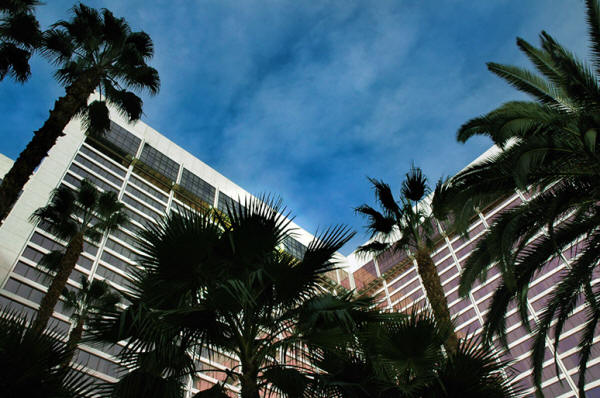 A view from inside the central gardens and courtyard of the Flamingo
Though I've had the pleasure of knowing most of the Audience team, this was the first time I had opportunity to meet Richard Colburn, Audience's relatively new Vice President of Sales and Marketing. While Audience was highlighting the two entry level products from their ClairAudient Speaker line, the ONE and the 1 + 1, that doesn't mean the sound was unimpressive; just the opposite, in fact.
By far the most interesting new speaker I heard at this year's event was the Audience ClairAudient 1+1 ($1800 per pair) standing on Target stands ($150/pr). Sourced by the Bryston BDP-1 player ($2195) and BDA-1 DAC ($1995), the rest of the electronics included the prototypical Audience Wavepower amplifier and Wavemaster preamp, neither with an announced price as yet. The hotel wall current was tamed by use of two (one on the front end components, another on the power amps) Audience Adept Response aR6-TSS power conditioner ($6000), and all cables were from Audience, the Au24 powerChords ($2200/6 ft.), the new Au24 SE RCA interconnects ($1290/meter) and the Au24 SE speaker cables ($1995/2meter). I have one of the new Au24-SEs in house, and the initial results are WONDERFUL. Watch this space for a review this spring.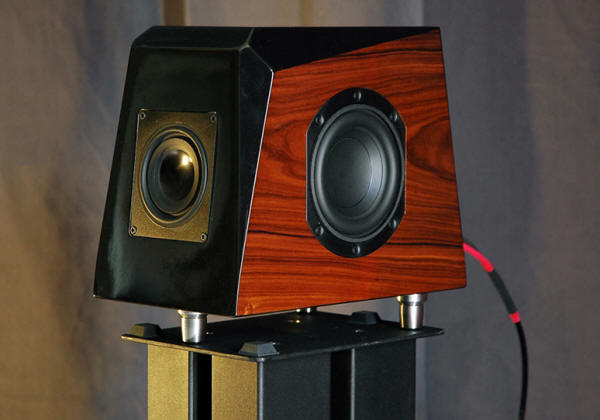 The Audience ClairAudient 1+1—and they sounded EVERY BIT as good as they look
When I asked to give them a listen, the first thing Richard fired up for me was a Redbook FLAC file, "From the Beginning" from Emerson, Lake and Palmer's 1972 release, Trilogy, on the Bryston BDP-1. I have to say that while I've heard this cut hundreds of times, this time it was revelatory! This system served up everything in a delicately layered, remarkably liquid, and compellingly involving manner. It's amazing how much music you hear when you eschew the "evils" of crossovers! Well done, gents! Well done!
After some more catching up I gave up on fumbling though the mediocrity that was so rampant and made my down the hallway and into a room that also NEVER fails to impress, Blue Light Audio, in 4040.
The gear that Jonathan Tinn (President, Blue Light Audio), Kevin Malmgren (Evolution Acoustics), and Andreas Koch (Playback Designs) had set up here was virtually identical to what they showed last year, and, the year before that… In fact, last year, my show report made light of that fact; I had joked that I was NOT using my show photos from the year previous, but had indeed taken new shots—just like I did this year.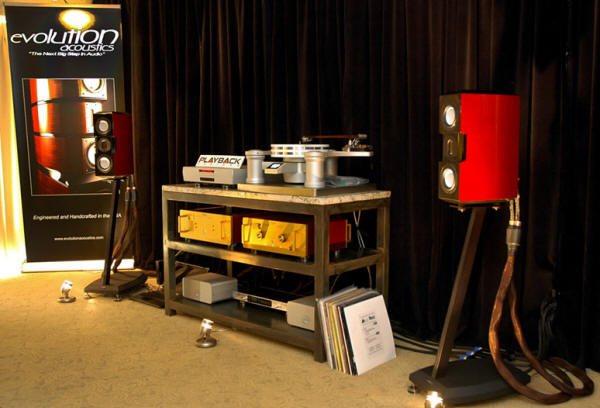 Mighty Might Evolution Acoustics MMMicroOnes with Playback Designs, Wave Kenetics, and darTZeel
Sources were either the over-achieving Playback Designs MPS-3 CD Player ($8500) with USB input from Jonathan's windows laptop, which he repeatedly claims is a "$300 laptop," or the striking looking and sounding Wave Kinetics NVS Reference 'table ($45,000), fitted with the Durand Telos tonearm ($19,500), sporting the new Ortofon MC Anna cartridge ($8500).
During this visit, electronics were the darTZeel NHB-18 NS preamp with MC Phono section (≈ $41,250) and NHB-108 Model B (≈ $29,400) and all equipment sat on Leeds Studios custom Audio Furniture. Power conditioning was handled by an Audience adeptResponse aR6-T ($4600). Speakers were the staggeringly over-achieving Evolution Acoustics MMMicroOne, ($2500 with stands) and all cables were of Kevin's design; the DRSC Speaker Cables ($6000/pr), The LINK 50 Ohm BNC-BNC interconnect ($6000), some TRPC Power Cords ($3000), and a CD2One Power Conditioning Power Cord ($2000).
Kevin seemed perfectly serious when he asked me if I thought the diminutive Evolution Acoustics MMMicroOne speakers sounded better this year. I said I really couldn't say, it had just been too long between listens. When I asked what was different, he smiled back and said that they were the same pair they had used last year, but now they were fully run in! Regardless, this system was remarkable, again one of the most engaging, musical, and emotive systems I heard at this years combined event.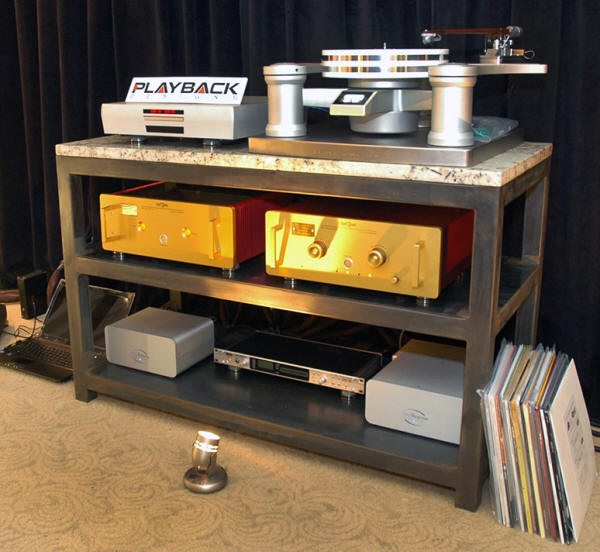 Playback Designs MPS-3, Wave Kenetics NVS Reference, and darTZeel NHB-18 NS/NHB-108 Model B
Strengths of this system were remarkably accurate tonal balance, jolting dynamics, especially given the small size of the drivers, and a stark level of resolution. While unable to reconstruct the lowest of lows, the bass that they did reproduce was persuasively deep, exquisitely detailed, and fast! These speakers have no business sounding as big as they do—but they pull it off. As I suggested last year, go out of your way to hear them—you will never look at "minis" in the same light.
One other room that I simply must mention is the Von Gaylord room, 4023. Ray Leung regularly puts together an engaging and musical room…year after year. And I mean since the mid 1990's—so we are talking about nearly 20 years now! This year, while introducing a pair of very affordable speakers and similarly priced integrated amp instead of using their flagship products, was no exception.
The new Von Gaylord VG-8 speakers use a 1 ½" titanium dome tweeter and an 8″ fiberglass woofer in a 12″ wide x 16″ tall x 14 ½" inch deep truncated pyramid, and at $3495, are roughly one fourth the price of the fabulously liquid and involving Von Gaylord Legend speakers. Ray was using a Marantz CD-94 CD Player as transport to feed his UNI DAC with external power supply ($12,000). That signal was received by the Von Gaylord Starlet 4, a 50Wpc triode integrated amplifier ($3,495). Rounding out the system were the Von Gaylord Legend II speakers cables ($1495/10 foot pr), Lemaa interconnects ($395/1 meter pr), and the Power 3 power cables ($495/6 foot).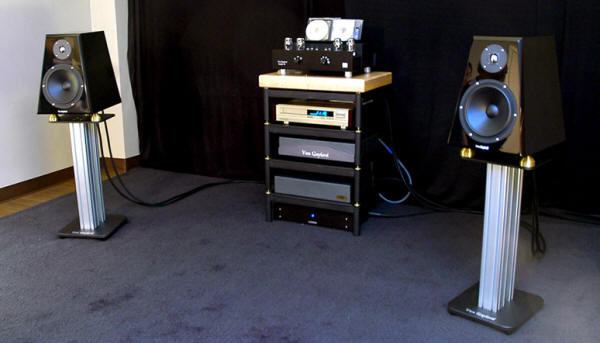 This year, Von Gaylord introduced their new VG-8 speakers and the Starlet 4 integrated amp
I've been taken by Ray's rooms since I first heard this company's gear which, as I have mentioned, was in the mid 1990's when the name was still Legend Audio. This ALL Von Gaylord system was first and foremost—musical. Oddly, and unfortunately, you can't say that about all hi-fi systems. Performances were delivered with splendid detail, yet with a degree of body and warmth that made you want to settle back into your chair for the long haul. The system presented an incredibly vivid and accurate stage, with an inviting openness and a smooth, rich, and pure tone. My hat is off to Ray specifically and to Von Gaylord in general for pulling off minor miracles year in, year out for nearly two decades.
By 4:30, I had tired of the tedium. I sent out an SOS in the form of an SMS to colleague and very dear friend Gary Lea. While Gary lives in North Las Vegas, he runs a large group of retail businesses and was going to have to do some work the week the event was in town. Luckily, by the time I made my digital reach out, he was already in the building and I had only to walk a few rooms down the hall to meet him.
Within a matter of half an hour, we decided that it was more important to call it a day take some time to catch up, so we headed down to the Sin City Brewing Company on the first floor of the Flamingo, where we sat and spoke for more than two hours. It was getting dark by the time we called it a night and Gary headed home.
I trudged back to The Quad, were I grabbed a couple slices and a soda and headed to my room. After taking care of some emails and doing some image processing on my first batch of images, I turned on the TV and kicked back on the bed to veg out to NCIS. The next thing I knew, I woke up and it was 2:00 AM! I struggled to get back to sleep at that point, which was my body's normal time to wake up (5:00 AM Eastern), but by 6:00 AM I gave up and got my day going.
Having learned my lesson at The Quad yesterday morning, I started my Wednesday off with the breakfast Buffet at the Flamingo. Nothing could be more different from my previous day's breakfast experience. Food and drink items meant to be hot, were. Those meant to be cold, were. There was so much variety it was difficult to choose; the eggs alone ranged from fresh, moist, plain scrambled eggs to made-to-order omelets to eggs Benedict to a rousing Spanish Chorizo scramble. And the view! Having been here many times before, I requested a seat by the floor-to-ceiling windows in one of the two round dining areas, looking out into the stream of fish that surrounds the restaurant area.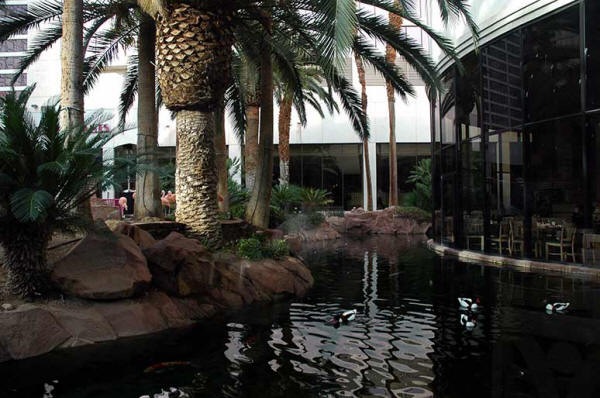 Just outside the doors of the Breakfast Buffet area of the Flamingo
While enjoying my magnificent breakfast, I got a call from my brother, mentor, and dear friend, Jim Merod. Because of his teaching schedule this year, he would only be able to attend today and tomorrow, having to fly out early Thursday evening to meet his commitments on Friday morning. He let me know that his flight was on time and we agreed to meet at the Flamingo when he arrived.
I foraged haplessly yet again this morning, passing the time until Jim would arrive (just before lunch), first on the lower levels (where I missed the KEF LS50s—again), then again on the fourth floor, for excellent sonic's, but was again thwarted. But this is where the strictly linear portion of my narrative will end. I just didn't find enough of interest to make that compelling a record from here out.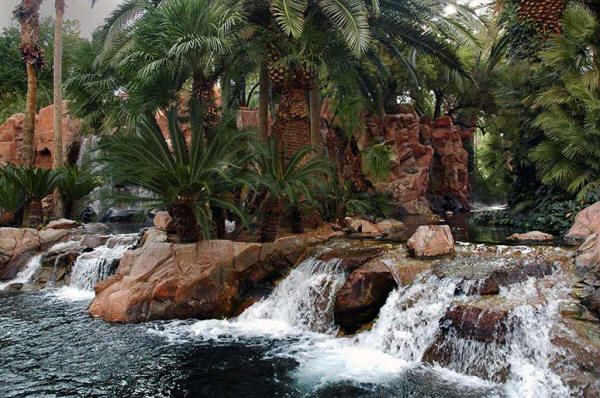 One of the many sets of streams and waterfalls in the central court of the Flamingo
The Rest
Once Jim arrived, after a miscommunication as to which elevator bank to use, we met up and started to get caught up. Of course we hit a couple of rooms out of necessity. I wanted him to hear the Audience 1+1 and the Blue Light Audio room, so we stopped in those rooms. But given Jim's very tight schedule, he wanted to take care of some obligations as rapidly as possible so we decided to head over to the CES High Performance Audio Exhibits in the Venetian.
It should have come as no surprise given all the other difficulties I was facing this year, but upon arriving at the press room, Jim ran into a major difficulty registering. It seems that by mid-afternoon on Wednesday, the registration kiosk in the Press Room on the fourth floor was permanently CLOSED. Heaven only knows what Media members who couldn't arrive before this time were to do…
Within 20 minutes, again thanks to the miracle of SMS messaging, we managed to contact our mutual friend and genius cable creator, Serguei Timachev, of STEALTH audio cables. He was cosponsoring a room with Ken Stevens of Convergent Audio Technologies, in 30-116 and was only too happy to come down and meet us on the casino floor. After a brief exchange we learned that Serguei happened to have a few extra and unused exhibitor passes, so, Jim quickly became someone else… with a Russian first and last name… for the remainder of the event!
Once that hurdle was managed, and in rather short order, Jim had made good on a large number of his compulsory commitments. By 6:40 pm we had decided it to be of greater import to try to catch up with Serguei and have a libation—or twelve!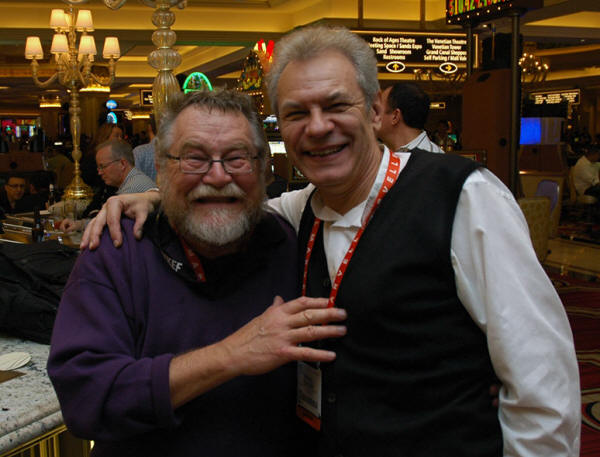 Two of the smartest, most talented gents in our industry, Jim Merod (BluePort Jazz) and Serguei Timachev (STEALTH Audio Cables)
Wednesday evening was the night of the annual get-together sponsored by Philip O'Hanlon, of On a Higher Note. Philip always rents a penthouse suite at the Mirage, and from 6 to 8 PM (ok, 'til whenever the booze quits flowing and everyone heads off for a meal), it is THE party of the CES Week! You can hang out and converse with any number of fellow Fine Audio journalists and a handful of industry legends… no, REALLY. It is not uncommon to find folks like Laurence "Dic" Dickie in attendance, the man behind the original Bowers & Wilkins Nautilus and now leading Vivid Loudspeakers, walking around chatting with folks.
This year, Joe Kubala, of Kubala-Sosna cables, co-hosted the event with Philip. I was able to spend some time chatting with Joe, and his son Greg, at this year's event. Sadly, Howard Sosna, his partner, had come down with a serious flu and needed to head home before the event even got started… CES that is, not this party!
Thursday we prowled the halls of the Venetian like a pack of deranged wolves looking and listening for better than average sound, and with very few exceptions, were repeatedly let down. I know it is hard to deliver great sound in these rooms, but… this year there were just so few exceptional sounding rooms that it was scary.
I was quite surprised at the disappointment I was dealt by the lackluster sonic results we experienced in the Constellation Audio Room, in 34-309. Audiophiles will no doubt recognize the remarkable cast of characters banding together to build these remarkable looking and sounding products; John Curl, Peter Madnick, Bascom King, and Demian Martin, whom I found working the room during my visit. It was really nice seeing him, as it had been some years since we had run into each other.
Though they had hitched up the big Magico Q7s, the sonic alchemy in that room was SO far off the magic that had been created at the 2012 event in the Magico room it was shocking. I have to admit to dragging Serguei and his colleague Alex Dondysh (Ultimate Sound Machines, Inc) into the room, specifically to hear the Magico Q7's, which had absolutely STUNNED me, and most everyone else who hear them, last year. The Magico Suite last year had delivered, without question, the best sounds of CES 45. Yet in this different room, with this very different set up, it was lacking the immediacy, resolution, and rich tonality that had so impressed us all last year. Very disappointing…
While I'm talking about Magico, Alon Wolf delivered another STUNNING performance this year with the entry level Magico loudspeaker, the new S1 ($12,600/pr), an unassuming yet striking looking forty-six inch tall, ninety-five pound, seven-inch two-way! This year, Magico was again using the MIT Oracle MA-X Rev. 2 interconnects and SHD speaker cables and their own in-house proprietary server, but this year they paired with the flagship Constellation gear, using the Altair preamplifier ($60,000) and a pair of Centaur monoblock amplifiers ($48,000/pr).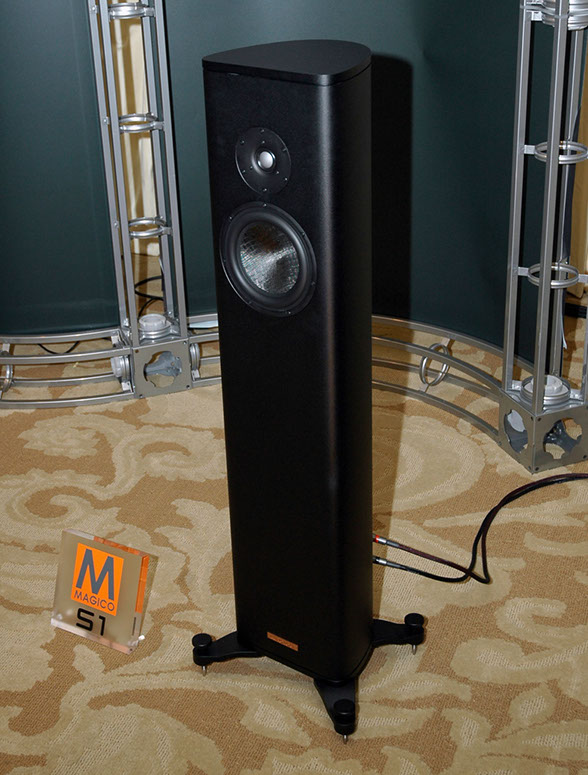 Alon Wolf has a stunning little triumph on his hands in the S1
The sonic results in 35-310 were simply staggering. The little S1 delivered stellar dynamics for a product with such a small, single woofer. It approaches the to-die-for resolution and unmistakably truthful voicing of the smaller Q series of Magico loudspeakers, and maintains that rich, vibrant, and earnest tonal balance. It should go without saying that its imaging and soundstaging abilities were world class. Individual and massed voices were the right size, the right shape, and their relationships to each other were undeniably accurate and precise. Yet it was their ability to recreate complex instrumental textures and layering that left me with my mouth agape. The only comment I was able to share with Irv Gross, Magico LLC's Director of Sales, was, "It's all Magico!"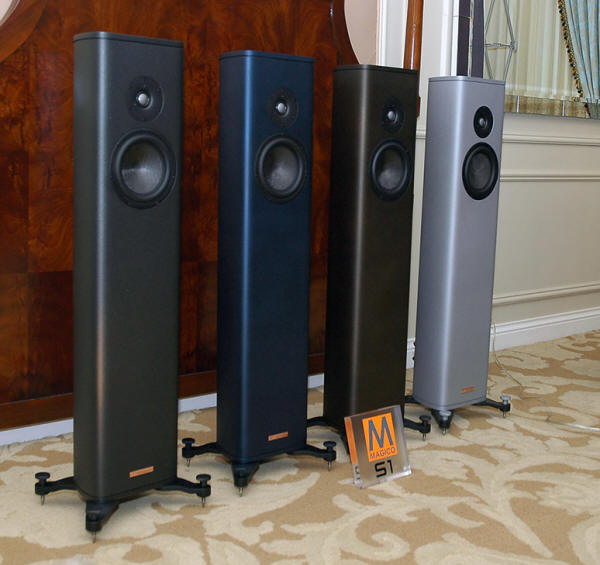 The static display of S1's showing the four available colors
However, good as the Magico Suite sounded, without question the best sounding system I had the pleasure of listening to at this year's combined CES/T.H.E. Show was found in the Perfect 8/BAlabo room, in 29-222. Loudspeakers were the Perfect8 Point MKII Evolution ($115,000/pr), which have their own on-board 400 watt active subwoofer amplification. Digital sources were the Zanden 2000P transport ($33,500), the BlueSmoke Entertainment Music Server ($7500), and the BAlabo DB-1 DAC ($37,500).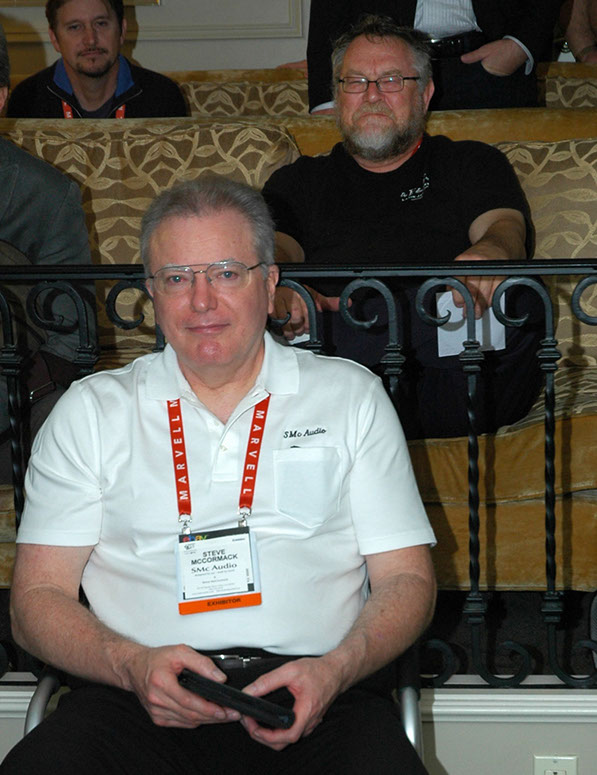 Audio pals Steve McCormack (front) and Jim Merod (back) listening to the Perfect8/BAlabo room
Electronics included the BAlabo BC1 MK II Linestage Control Amp ($67,500) and the BAlabo BP1 MK II stereo power amp ($88,500). Signal and speaker cables were the BAlabo Absolute Zero series ($8000/8 meter and $1875/1 meter), power cables were the Argento Audio Flow Master Reference ($6800), power distribution was managed by the Argento Audio Flow ($8900) and all components rested on a Grand Prix Audio Monaco with 4 Formula Shelves ($13,250).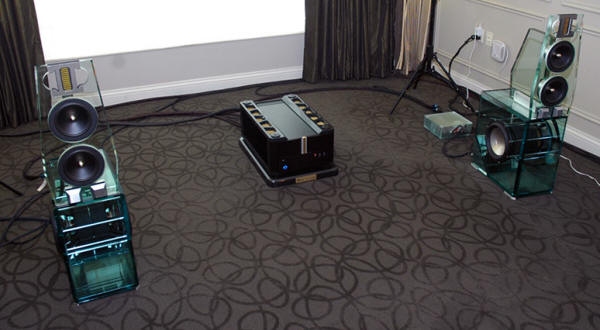 The transparent cabinetry of the Perfect 8 Point Mk II Evolutions is eerie yet unmistakable
This system really delivered; bone crushing dynamics, superb coherence, ruthlessly musical resolution, captivating presence, and an unquestionably truthful timbre. Tonal color and texture were convincingly rich and vibrant, and musical involvement was eerily honest, bordering on downright revelatory.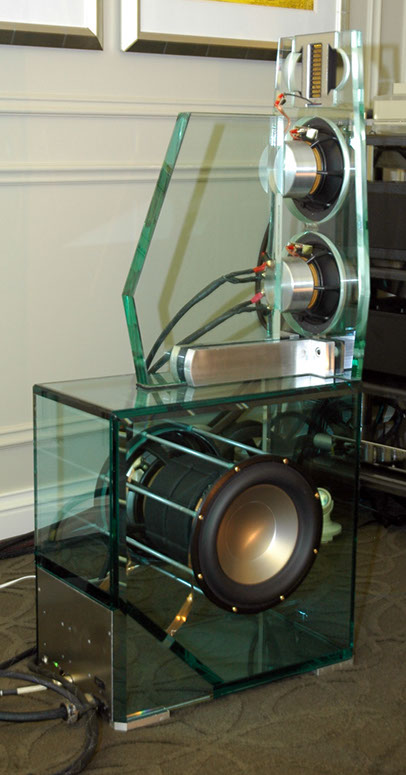 A shot of the rear of the Perfect8
This system had the ability to recreate the scale of the music in a remarkably accurate manner, yet it was able to serve up the nuances and subtleties with uncanny, unnerving realism. This system very nearly breathed life into the music it reproduced. Jim was so taken that he has opened the dialog for a review, so be watching for that! It will be a treat if it comes to be. This was one of a very small handful of rooms I made more than two trips into!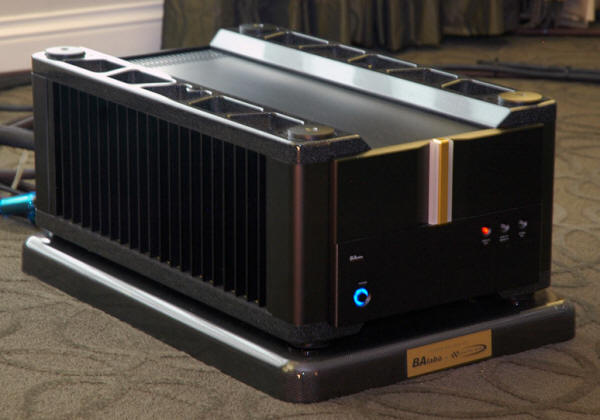 The impressive looking and sounding BAlabo BP-1 Mk II stereo amplifier
Still another room that teetered that brink between great and ho-hum was the YG Acoustics suite, in 35-203. The larger system was fronted by the dCS Scarlatti 4-box digital front end, CD/SACD Transport, Master Clock, Upsampler, and DAC ($80,000), all fed from the Aurender Digital Music Server ($6990), or the Scheu Analog Das Laufwerk 1 Turntable ($8330), with Scheu 12 inch Tacco arm ($4995), fitted with the Scheu Ruby 3 cartridge ($2950). Electronics included the Veloce Audio LS-1 Linestage ($18,000), and the gorgeous looking Dan D'Agostino Momentum Monoblock Amplifiers ($55,000/pr). All cabling was the remarkable Elation series from Kubala-Sosna (≈ $85,000).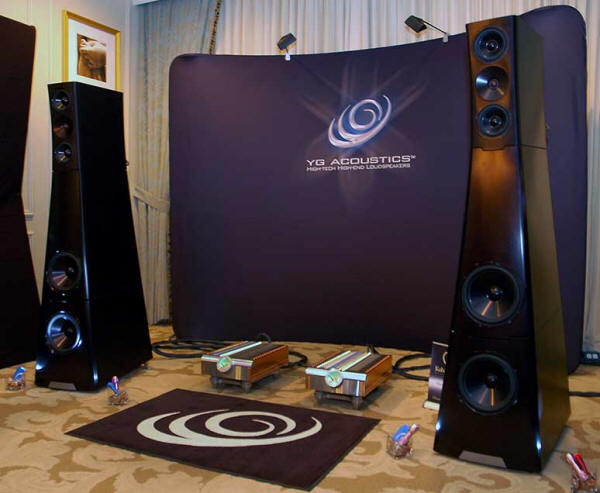 The new Sonja 1.3 and the D'Agostino Momentum Monoblocks
Yoav and company introduced the Sonja 1.3, ($106,800/pr), which supplants the Anat III (≈ $119,000) as their flagship product. Looking only at the products or their photos side-by-side, the two speaker systems share a very markedly similar look. Checking the spec sheets one learns that the Sonja 1.3 is 1dB less efficient, 1 inch taller, and 2 inches deeper than the Anat III. Apart from the more contoured, less industrial looking cabinetry, they look pretty much… identical.
After listening to a cut I know intimately, one I've been using for over a decade, to be honest, I recall the system used in last year's suite (with the Anat III) as being more dynamic, more liquid (read less analytical), and slightly more transparent. My notes were fairly clear. To be fair, it may have had NOTHING to do with the YG Sonja 1.3 speakers since, as far as I could recall, everything else in the chain was different this year too.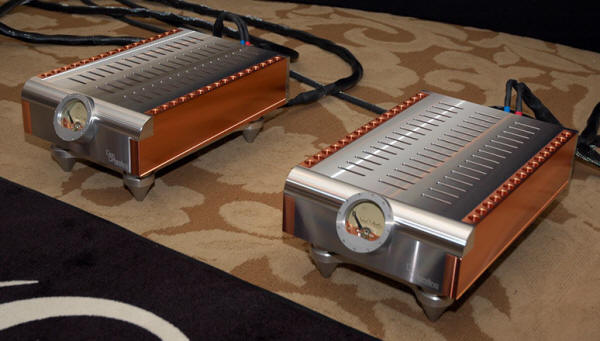 The striking looking, powerful D'Agostino Momentum Monoblocks
Of further interest was the new product from GoldenEar Technology, the latest speaker venture by the venerate Sandy Gross. I just had to stop by to see what he was doing with his new product line. What I found was the newest speaker in his Triton Tower line up, set to start shipping this spring, the Seven ($1400/pr).
Although it is the first Triton Tower without a built-in powered subwoofer, the Seven manages to achieve deep, powerful bass performance by combining two 5.25″ cast spiderleg-basket bass/midrange drivers with two 8″ planar sub-bass radiators and employing GoldenEar's bass-loading technologies. The speaker also uses one of their High-Velocity Folded Ribbon (HVFR™) high frequency radiators.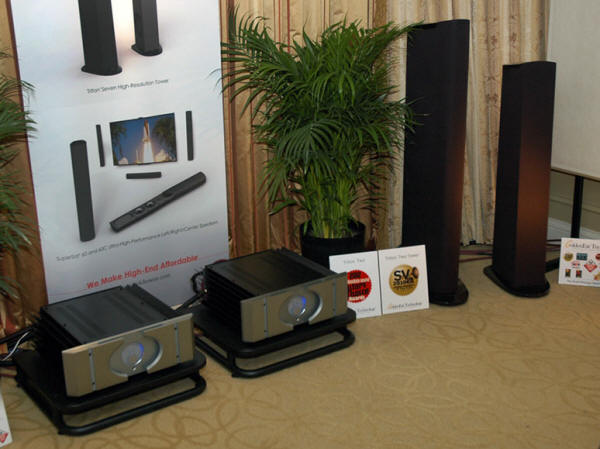 The newest speaker in the GoldenEar lineup, the Triton Seven, (far right), hitched to some very expensive gear, gave an amazing performance
Looking much like a shrunken version of the larger Triton Two and Three, the Seven is a miniscule 40 ¼" tall, by 7 ¼" wide (rear), 11″ deep, and tips the scales at just 31 pounds! They are planning to ship them by spring. I have to admit, it sounded MUCH better than I would have expected for the dough!
Friday saw me making my way back to the Flamingo, to make a planned stop back at the Blue Light Audio room. Jonathan had explained to me that they would be showing the new Playback Designs Integrated Music System, the IMS3 ($13,000) late in the week. This new integrated unit combines a preamp with three analog (2 RCA/1 XLR), 1 USB, 1 Toslink, and 1 AES/EBU inputs, a 128x DSD-ready DAC, and a 130 Wpc amplifier.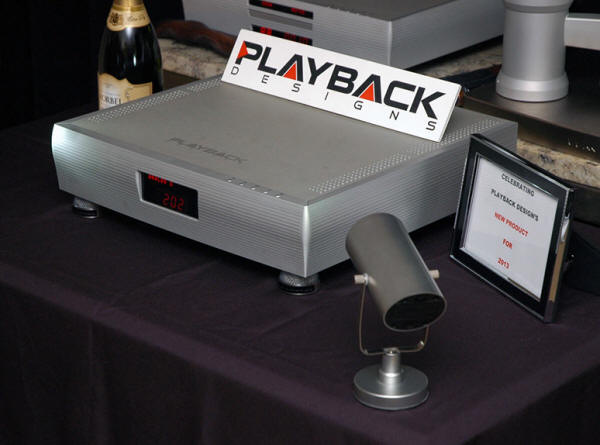 Playback Design introduced the all-in-one IMS3, Integrated Music System which is planned to start shipping this summer
Man did this thing ROCK… Now, I'm not going to tell you that it somehow equaled the performance of the full system heard in that room earlier, but I'm here to tell you, it came mighty close. And, given the functionality and desirability of such a product, this should be a clear home run for Andreas and Playback Designs. The unit will be shipping this summer.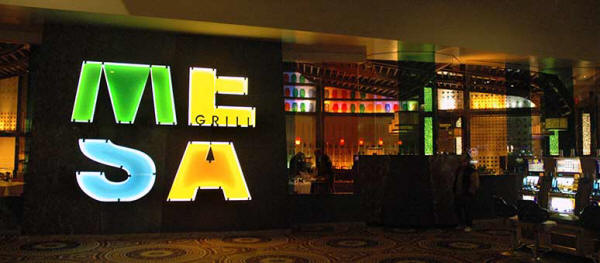 The entrance to Bobby Flay's Mesa Grill in Caesar's Palace
While I was very low key for dinner on Tuesday evening, mostly because I was exhausted, I did have opportunity to have a couple exceptional meals. Wednesday evening I was part of a large group who dined at the Lotus of Siam. If one were to believe all the press clippings and plaques posted in their entry way and foyer, they have been awarded the honor of being chosen as the best Thai Restaurant in the United States…
I also had the great pleasure of joining the entire Audience Posse for cocktails and dinner at Mesa Grill Thursday evening. I confess; Bobby Flay's is my current favorite restaurant in Vegas. I'm a sucker for that spicy Southwestern cuisine.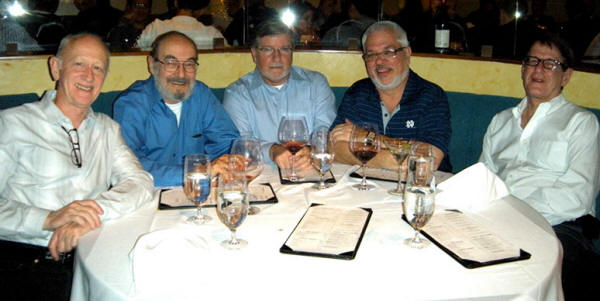 The Audience Posse and your humble narrator at Mesa Grill – l to r, John McDonald, Roger Sheker, Richard Colburn, me, and Frank Doris
I have said it before, and it is no less true now than it was when I first 'fessed up to it back about 2002 or 2003. The best part of attending CES, or most any show come to think of it, is getting to visit with friends I am likely to see only at such events! Thursday evening, post the Bobby Flay fest, I ran in to Jonathan Brown of Covenant Audio Marketing briefly at the Center Cut Steakhouse bar in the Flamingo when we stopped for a cocktail or two.
I had the briefest of chats with Peter Clark of Redpoint Audio Design on the 29th floor of the Venetian on Friday, just after the show closed. And my trekking through the Mirage allowed me to run into Julian Margules of Margules Audio, who I'd not seen in some years now.
While I was able to see and visit with a great deal of my friends, ones I ONLY see at such events, there were many more I missed this year. Joe Cohen of the Lotus Group took the year off, as did Howard Sosna, after coming down with a hellacious flu once he arrived in Vegas. Dusty Vawter of Channel Islands Audio was there, and actually called me twice, but I was never able to catch up with him. Sorry Dusty, my bad!
While the CEA's officially released information declared an attendance of over 150,000 and the largest amount of space ever dedicated to the event, some 1.9 million square feet, to the man, every person I asked at the Venetian insisted that participation or attendance was down, not up, over last year. One exhibitor (Gary Koh of Genesis) uses a fairly scientific method of tracking attendance; he sets out a candy dish. And the results? Last year, just over eight bags. This year, just over three! If that isn't conclusive proof, I don't know what is!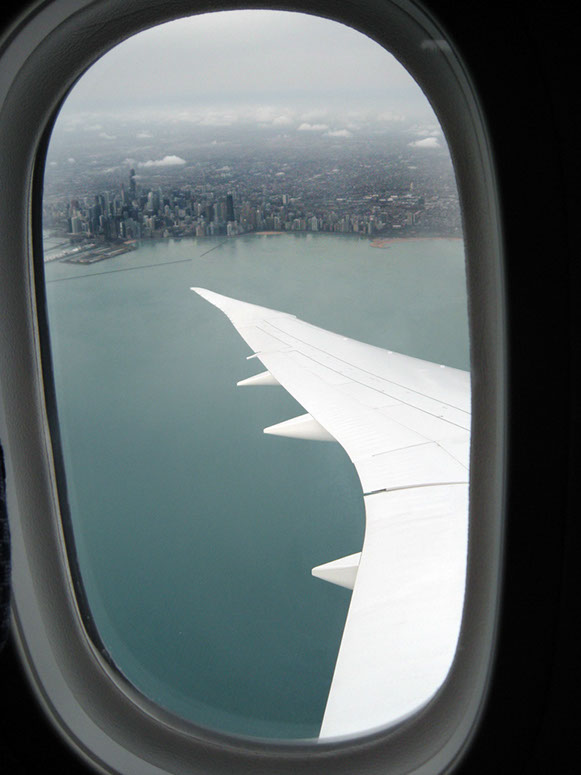 Just minutes before touchdown at O'Hare International, with Chicago's Lakeshore view out the window of my 787 Dreamliner with the distinctive raked wing tips
And finally, I got lucky on the way home. My hop from Huston to Chicago was aboard one of the technological and engineering marvels of the modern world; one of the now grounded (as of this writing) Boing 787 Dreamliner's. This ultra-light weight and enormous aircraft is said to be 80 percent carbon fiber composite by volume. And the technology, don't even get me started.
The flight was less than half full, which allowed yours truly to stretch out and be comfortable after the crowded hop from McCarran International to George Bush Intercontinental.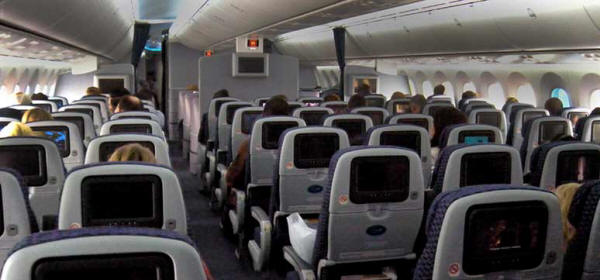 Filled to just over 50 percent capacity, my time on the Boing 787 Dreamliner was one of my best flying experiences of all time
Being a tech guy, I can't even begin to tell you how cool I found the electro-chromic window shades on the 787. No sliding up or down a plastic shade in the window casing, no sir. I was drawn immediately to the missing sliding shade. Instead, there were only darken and lighten buttons under each window. The windows themselves use an electro-chromic dimming system, allowing you to turn windows from fully transparent to completely dimmed. Think Transition eyeglasses or the windows in the Tyrell Corporation in Ridley Scott's masterpiece Blade Runner. Way cool, ok!
And one final note, as I'm about to put another CES behind me. I have discovered that my pedometer shows that I set a new CES record having walked 40.658 miles over the 5 days… Till next year!